| | | |
| --- | --- | --- |
| | Maat-ka-Ra Hatshepsut | last update: 09.08.2010 |
| | Canopic chest from KV20 | |
The following illustration shows the canopic chest of Hatshepsut which was found inside KV20. This canopic chest is obviously the earliest one of from the new Kingdom (a chest bearing the name of Thutmosis I was most likely made during the reign of Thutmosis III).
The chest was discovered directly east of the foot (south) end of the sarcophagus.
The square box made of quartzite shows a slight batter and a torus roll with a cavetto cornice above it. There are no reports about a lid or remainders of it.
The chest had an open interior (i.e. no fixed cross walls), probably it was intended to divide the interior with (wooden) cross walls into four compartments. The internal dimensions allowed to store four jars (or bundles of mummified material?) of which everyone could have had a diameter of 25 cm and a height of maximally 50 cm. However, no remainders of the jars have been found.
Canopic Chest of Hatshepsut found in KV20, Museum Cairo, JE 38072
outer Dimensions:
73.5 x 73.5 x 59.8 cms
inner D: 55 x 55 x 50 cms

All four exterior walls are decorated with a horizontal inscription at the top and at the two vertical inscriptions an each edge. The hieroglyphs had been neatly incised. The inscriptions explain that the box was intended to hold the mummified internal organs of Hatshepsut.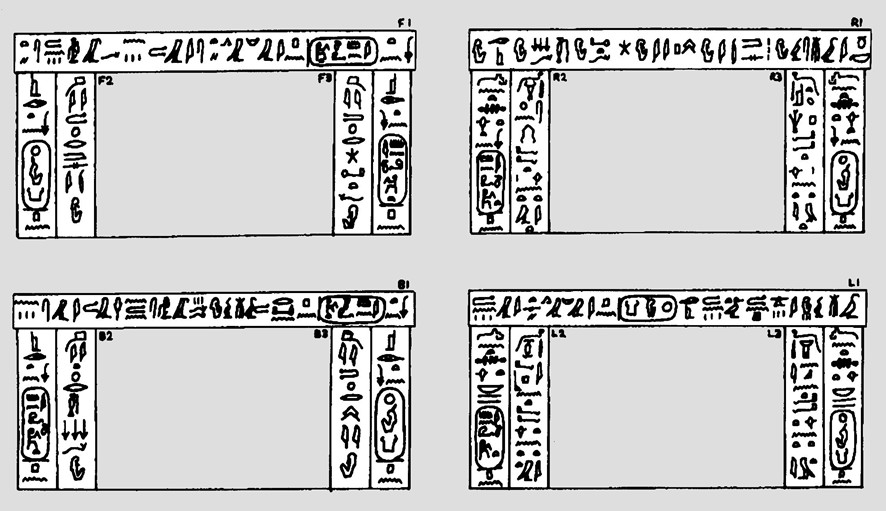 The drawings above show the inscriptions on the canopic chest (Dodson, 1994; modified); above on the left the front side, below it the rear side, on the top right the right and below the left side.
The inscriptions had been translated by Dodson (1994) as follows:
| | |
| --- | --- |
| Front side - | |
| top line: | This king @At-Spst-Xnmt-Jmn, who is inside, she is retired among you; may you carry her. |
| left: | Your are honored before Imseti, O this Osiris King MAat-kA-Ra. |
| right: | You are honored before Duamutef, O this Osiris King @At-Spst-Xnmt-Jmn. |
| | |
| --- | --- |
| Rear side - | |
| top line: | O this king @At-Spst-Xnmt-Jmn, Horus has given to you his children so that they may carry you and that you may be powerful in them. |
| left: | Your are honored before Qebehsenuef, O this Osiris King @At-Spst-Xnmt-Jmn. |
| right: | You are honored before Hapy, O this Osiris King MAat-kA-Ra. |
| | |
| --- | --- |
| Right side - | |
| top line: | I am one of the children of Horus, Imseti, Hapy, Duamutef and Qebehsenuf, O Osiris! |
| left: | Words spoken: Selqet, wrap your arms about that which is in you, extend your protection over this King @At-Spst-Xnmt-Jmn. |
| right: | Words spoken: Isis, enfold your arms around that which is in you, delimit your protection over this King MAat-kA-Ra. |
| | |
| --- | --- |
| Left side - | |
| top line: | O children of Horus, go carrying your daughter , this Osiris MAat-kA-Ra who is inside - she is retired in you. |
| left: | Words spoken: Neith, join your arms about that which is in you, delimit your protection about this Lord of the Two Lands, this @At-Spst-Xnmt-Jmn. |
| right: | Words spoken: Nephthys, unite your arms about that which is in you, extend your protection over the Lord of the Two Lands this MAat-kA-Ra. |